The importance of family caregiver studies in Alzheimer's
By Alzheimer's Prevention Bulletin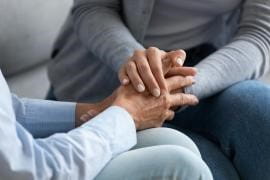 Family caregivers play an integral role in the lives of people with Alzheimer's disease and related dementias. They manage medications and daily schedules, drive people to medical appointments and may even care for the physical needs of their loved ones. While much of Alzheimer's research is focused on prevention and treatment, an ever-increasing body of research helps identify evidence-based interventions for caregivers.
"The goal of our research is to reduce caregiver stress and distress, and enhance caregiver well-being by giving them tools to assist with the many challenges of caring for a loved one with Alzheimer's and related dementias," said David W. Coon, PhD, Associate Dean of Research Initiatives, Support and Engagement and a professor in the Edson College of Nursing and Health Innovation at Arizona State University. He also directs ASU's Center for Innovation in Healthy and Resilient Aging.
Dr. Coon began studying the role of caregivers for people with Alzheimer's and related dementias as part of the REACH project (Resources for Enhancing Alzheimer's Caregiving Help). This 10-year, multisite study is the largest Alzheimer's caregiver study to date. It developed evidence-based strategies for caregivers primarily at the moderate stages of the disease.
"Caregiving research is critical to continuing to meet the changing needs of caregivers," said Dr. Coon. "It can identify opportunities to integrate technology into the caregiving process, increase our understanding of similarities and differences among diverse caregivers (race, ethnicity, gender, geographical location), and advance our understanding of the most effective interventions."
Dr. Coon leads a variety of studies on the development of research-based programs across the course of the disease to help people better manage the responsibilities of caring for someone with dementia. The studies are available virtually in both English and Spanish and include caregivers.
CarePRO is a collaborative partnership with the Area Agencies on Aging, the Alzheimer's Association and Arizona State University to develop and share strategies related to managing stress, communicating effectively with medical providers, managing behavioral problems and more. The program includes group sessions and individual coach calls. There are also CarePRO versions for caregivers who have placed their loved ones in care facilities and for caregivers of people with intellectual disabilities who are experiencing dementia as they age.

EPIC – Early-Stage Partners in Care focuses on people in the early-stages of dementia and their care partner. It combines CarePRO strategies with care values and care planning activities with the goal of understanding what the person with early-stage dementia wants for their care as their disease progresses.

EPIC Living Alone – This project focuses on people who are living alone with early-stage dementia who may or may not have identified a caregiver.

Additional studies focus on the use of technology and smart phone features to support caregiving and trigger behavior response training to help caregivers identify and remove triggers to lessen the impact of certain behaviors.
You can learn more about participation in studies focused on caregiving on the Alzheimer's Prevention Registry Caregiver Studies page.
"Caregivers face a variety of challenges depending on their resources and other life responsibilities including health, jobs and family," said Dr. Coon. "They often feel vulnerable when trying to navigate this journey. Our goal is to develop skills to ease their journey, tools that often help them in other aspects of their lives."