First of several Alzheimer's studies to report results summer of 2022
By Alzheimer's Prevention Bulletin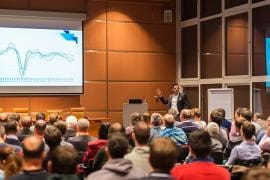 The Alzheimer's community is eagerly anticipating the results of several Phase 3 trials over the next few months. Will the long-awaited data from these prevention and treatment trials shed light on potential new drugs for people with Alzheimer's disease and dementia?
"These studies all use varying approaches to lower amyloid plaques in the brain," said Alireza Atri, MD, PhD, Director, Banner Sun Health Research Institute. "Regardless of their results, the information we learn will be foundational for the future of Alzheimer's research."
The unveiling of the trial data will begin at the Alzheimer's Association International Conference in late July and continue into early 2023. The trials include the drugs donanemab, gantenerumab and BAN2401 which were tested in people with mild to moderate symptoms. Two prevention trials in people without symptoms will also release their data: the A4 Study of solanezumab and the Alzheimer's Prevention Initiative's ADAD trial of crenezumab which has been taking place in Colombia.
"The question now is if we can lower amyloid levels in the brain, will it slow down the progression of symptoms," said Dr. Atri. "Based on the results we see; the next steps will be to learn how to maximize the effects of the various treatments."
Dr. Atri explains that in addition to how much researchers are learning about clearing amyloid from the brain, new tools or biomarkers developed over the last few years are helping them identify treatment results in real time. This can accelerate the potential for future drug studies where scientists gather the right people for the right dose at the right point in their disease process and get quicker feedback.
"I believe it will take at least another decade to realize the real potential for these drugs," said Dr. Atri. "We are at the leading edge of identifying future treatments for Alzheimer's disease, possibly using multiple drugs through a personalized medicine approach."
Could these upcoming announcements help researchers create more effective therapies to treat and prevent memory and thinking problems in the future? That is the hope. For now, it is more important than ever to stay involved in dementia research so we as a community can continue moving the needle toward ending Alzheimer's disease. For more on research, check out the latest studies recruiting participants listed with the Alzheimer's Prevention Registry.