How are autism and Alzheimer's related?
By Alzheimer's Prevention Bulletin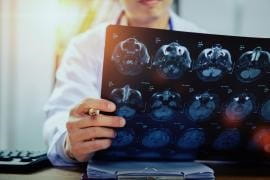 Recent research suggests a link between middle-aged and older adults with autism spectrum disorder (ASD) and early-onset Alzheimer's disease. With approximately 700,000 older adults diagnosed with ASD by 2030, now is the time to understand this possible connection.
"While we know people with autism can have lifelong challenges, our understanding of cognitive and brain aging with autism is lacking," said B. Blair Braden, PhD, Associate Professor of Speech and Hearing Sciences, and the Autism and Brain Aging Laboratory Director at Arizona State University's College of Health Solutions.
"A study of Medicaid and other public health records show middle-aged adults with autism are 2.6 times more likely to be diagnosed with Alzheimer's and other dementias than those without ASD," said Dr. Braden.
Dr. Braden leads a longitudinal study exploring the link between ASD and Alzheimer's. Her work and that of other researchers have found that memory declines faster in middle-aged adults with autism. Studies also show a higher incidence of the APOE4 gene that predisposes people for Alzheimer's disease in later life and earlier shrinking of the hippocampus, the primary memory structure in the brain.
The next phase of Dr. Braden's research will look beyond APOE to evaluate the entire spectrum of genes thought to cause brain changes and early memory decline. Her work also has a specific focus on women with autism, an underdiagnosed group. Women are at higher risk for Alzheimer's so it is important to explore how aging might uniquely effect women with autism as well.
Studying older adults with ASD is difficult since it was not a diagnosable condition until 1980. However, ongoing longitudinal Alzheimer's studies are now beginning to ask participants to complete self-evaluations to identify people with autistic traits. In one cohort, older adults with high autistic traits were shown to have the same challenges with memory as those seen in other studies of adults with ASD.
"We need to think about autism as a lifelong condition, not just something found in children," said Dr. Baden. "Autistic adults will need a different level of care as they get older and extra monitoring for signs of memory changes and dementia."
As Dr. Braden concludes: "If there is a biological link between autism and dementia it can open up new doors for therapeutic targets for both conditions."
The Alzheimer's Prevention Registry is adding new studies on a regular basis. Although we don't currently have one recruiting for adults with ASD, please check our Find a Study page and keep an eye on your email inbox for new opportunities.