Alzheimer's experts recommend strategies to increase diversity in studies
By Alzheimer's Prevention Bulletin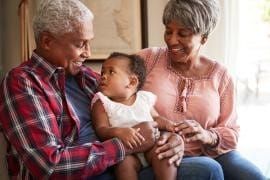 With an expected 13 million Americans projected to develop Alzheimer's disease by 2050, the disease threatens to overwhelm the health care system, families, and caregivers. Yet only one new therapy drug, aducanumab, has been approved in the last 20 years. Discovering new treatments will require making it easier for more people from diverse backgrounds who are willing and qualified to participate in clinical research studies and trials.
This growing need for participants led to the creation of a high-level panel of experts to recommend strategies to accelerate recruitment. Their conclusions were published in Alzheimer's & Dementia, the Journal of the Alzheimer's Association. The authors note that if barriers are not reduced for enrollment into studies, the discovery of new preventive and therapeutic treatments will be seriously delayed.
"Alzheimer's trials are slower to enroll participants, take longer to complete, and are more expensive than studies in other therapeutic areas," said lead author Jessica Langbaum, PhD, co-director of the Alzheimer's Prevention Initiative led by Banner Alzheimer's Institute. "If widely implemented, these evidence-based recommendations could help speed clinical research on this debilitating, fatal disease."
The University of Southern California Schaeffer Center for Health Policy & Economics, Alzheimer's Therapeutic Research Institute (ATRI), and Gates Ventures convened the panel to evaluate challenges in Alzheimer's clinical trials, particularly in the area of recruitment. Chaired by Dr. Langbaum, Paul Aisen, MD, of USC ATRI and Julie Zissimopoulos, PhD, of USC Schaeffer Center, the panel included more than 35 national and international experts from academia, industry, patient advocacy, philanthropy, nonprofit, and government.
After a two-year process, the panel recommended 27 solutions across six categories – ranked by feasibility, capacity to reduce recruitment barriers, and potential to improve diversity in Alzheimer's research:
Cognitive screening and early detection to ensure that a lack of formal Alzheimer's diagnosis does not rule out potential participants from trial eligibility. This includes prescreening strategies including early detection by primary care providers.
Blood-based biomarker testing to enable low-cost screening in a wider range of settings.
Public awareness and outreach for better understanding that Alzheimer's disease starts decades before symptoms appear, emphasizing the importance of early detection and need for healthy, at-risk adults to participate in research, and improving the inclusion and health equity in research.
Clinical trial architecture in the community, through health system satellite sites, mobile clinical trial units, and diagnostic clinic networks – to build trust in clinical research, increase screening, and reduce transportation barriers for participants.
Specific programs to engage and maintain contact with those who do not qualify for a particular trial, so they may be contacted about other future trials.
Virtual clinical trials to recruit more widely and enable more trial activities in participants' homes.
"The critical barriers facing these clinical trials today can be overcome when stakeholders from academia, industry, philanthropy, government, and volunteers work together to address this immense public health challenge and find novel ways to expedite the development of Alzheimer's treatment and prevention therapies," Langbaum added.
The Alzheimer's Prevention Registry adds new studies throughout the month. Visit our Find A Study page to locate a study opportunity that interests you.