Almost half of participants in anti-amyloid study show no disease progression in one year
Eli Lilly recently announced positive results for their Trailblazer-ALZ 2 Phase 3 clinical trial. The drug donanemab slowed cognitive and functional decline in a significant portion of study participants diagnosed with early-stage Alzheimer's disease. This is the third drug reported to show a link between amyloid plaque clearance and lessening the progression of disease symptoms.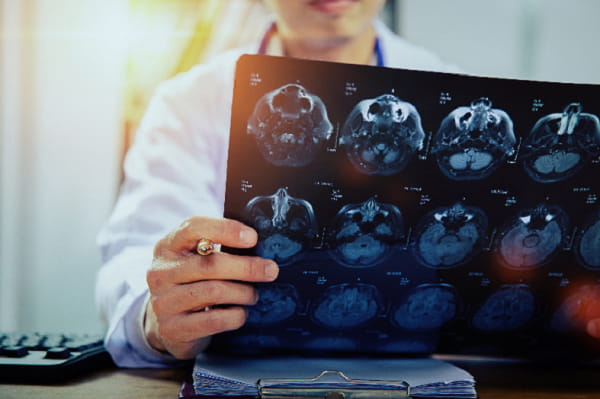 By Alzheimer's Prevention Bulletin
Eli Lilly and Company recently reported results of the Trailblazer-ALZ 2 Phase 3 clinical trial that show great promise in the quest to slow Alzheimer's symptoms with an amyloid-clearing medication. Participants on the study drug donanemab experienced a 39% lower risk of progressing to the next stage of disease compared to placebo over the 18-month study period.

"This is the first Phase 3 trial of any investigational medicine to deliver 35% slowing of clinical decline in people with early symptomatic Alzheimer's disease," said John Sims, M.D., Head of Medical – Donanemab for Eli Lilly and Company. "The results reinforce observations from the TRAILBLAZER-ALZ Phase 2 study that demonstrated amyloid plaque reduction provided a meaningful treatment response in participants with early symptomatic Alzheimer's disease."

The Trailblazer-ALZ 2 study enrolled people with early symptomatic Alzheimer's disease defined as mild cognitive impairment or mild dementia due to Alzheimer's disease. Participants had evidence of low/medium level of tau tangles in the brain. Study results showed:
35% slowing of cognitive and functional decline.
40% less decline in ability to perform activities of daily living at 18 months.
47% of participants showed no cognitive decline after one year, compared to 29% of participants on placebo using a scale called CDR-SB.
52% of participants completed their active treatment within one year and 72% within 18 months. The completion time was determined by a predetermined level of plaque clearance.
The incidence of amyloid-related imaging abnormalities (ARIA) was consistent with the Phase 2 trial for donanemab and has also been seen in other amyloid-targeting immunotherapy drugs. ARIA is most commonly observed as temporary swelling in the brain and usually has no symptoms. Most cases of ARIA in the Phase 3 trial were mild to moderate and resolved on their own. However, there were two participants whose death was attributed to ARIA and a third participant who died after an incident of serious ARIA. Given that ARIA has occurred in clinical trials across this class of therapies, monitoring with MRI will be an important part of patient care for amyloid-targeting therapies.

The results of the study suggest people with early stages of Alzheimer's disease could be the most responsive to medications targeting amyloid. Eli Lilly will apply for US Food and Drug Administration approval this quarter. If approved, it will be the third amyloid immunotherapy on the market after Aduhelm and Leqembi. Many researchers in the field hope donanemab could be the impetus needed to convince the Centers for Medicare and Medicaid to expand coverage for class of medication.

"We are in a new era of Alzheimer's research and development and our understanding of the pathological underpinnings of Alzheimer's disease has increased dramatically," said Dr. Sims. "It is our hope that we will soon detect and diagnose Alzheimer's disease at its earliest stages to lessen the impact on thinking and functioning in daily life."