Maintain brain health with a healthy heart
There is a strong link between a healthy heart and a healthy brain. Keeping your heart healthy ensures your brain receives the blood and oxygen it needs. Read on to learn strategies to maintain, or improve, memory and thinking skills and heart health as you get older.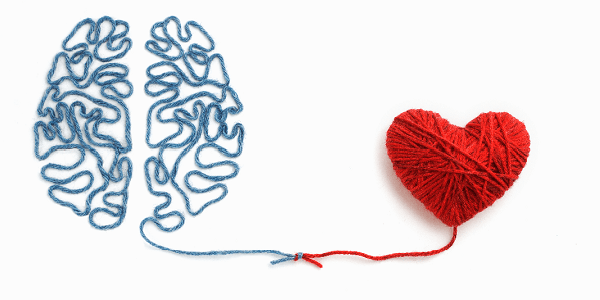 By Alzheimer's Prevention Bulletin
When it comes to Alzheimer's disease, doctors can see changes in the brain decades before memory and thinking problems appear. This means it's never too early, or too late, to start making changes to benefit your cognitive health. As it turns out, the heart plays a key role in keeping the brain healthy.

"Your heart pumps blood throughout your body, including your brain," explains Jessica Langbaum, Ph.D., Director, Alzheimer's Prevention Initiative. "There are many factors that can reduce your heart's ability to push blood to your brain and other organs, and these can put you more at risk for memory and thinking problems."

High blood pressure, high cholesterol, poor sleep, smoking and diabetes all impact the heart's ability to nourish the brain. Let's look at how we can control some of these factors to keep our brain healthy.

Blood Pressure

"Keeping your blood pressure under control can preserve the health of your heart and your brain," says Jeremy Pruzin, MD, a dementia specialist at Banner Alzheimer's Institute. "It's important to know your blood pressure numbers and get treated early if it is too high."

Cholesterol

Dr. Pruzin also recommends checking your cholesterol levels annually. High cholesterol is easily treated when caught early. Medications, exercise, and a balanced diet can all help control cholesterol levels.

Sleep

Another factor greatly impacting the health of your heart and brain is sleep. Poor sleep increases your risk for stroke, heart disease and dementia. During sleep, the brain clears itself of toxins including the amyloid plaques associated with Alzheimer's disease. When we don't get at least 6 hours of sleep, the cleaning process is incomplete and may cause a gradual buildup of amyloid over time.

Physical Activity and Diet

There is clear evidence that exercise reduces the risk of heart disease and dementia, although it is not a guarantee. Aim for exercising at least three to four times a week with the goal of at least 120 minutes a week of aerobic exercise. Find something that motivates you and stick with it.

No one diet is the best. A balanced, nutritional diet is the best way to keep your heart and brain healthy. Avoid highly processed foods and fast foods as these are detrimental to your brain and heart.

Heart Age Test

Do you want to know how healthy your heart is? In addition to talking to your doctor about blood pressure, cholesterol and diabetes, take the Heart Age Test. By answering a few questions about your lifestyle and genetic risk, the Heart Age Test can estimate your heart disease risk.

Want to Learn More?

Click here to watch videos from two experts at Banner Health discuss heart health and how it plays into your memory and thinking abilities.

We are all impacted by Alzheimer's disease in one way or another. You can help scientists understand more about the disease and how to prevent it by sharing the Alzheimer's Prevention Registry with friends and family. In addition, many prevention studies are looking for healthy adults so check out the latest studies listed on the Registry.